Acne - Causes, Symptoms & Treatments
---
Isn't acne is that one thing most of us face every day and we do so many remedies to get rid of it! Acne can be due to natural hormonal changes or due to many acquired causes. Acne is also known as zits, pimples, and blackheads. Acne is formed due to oil and greasy secretions from the sebaceous glands plug the tiny opening of the hair follicles. It can cause tender inflammation or redness around it and can develop into pimples, lumps or nodules.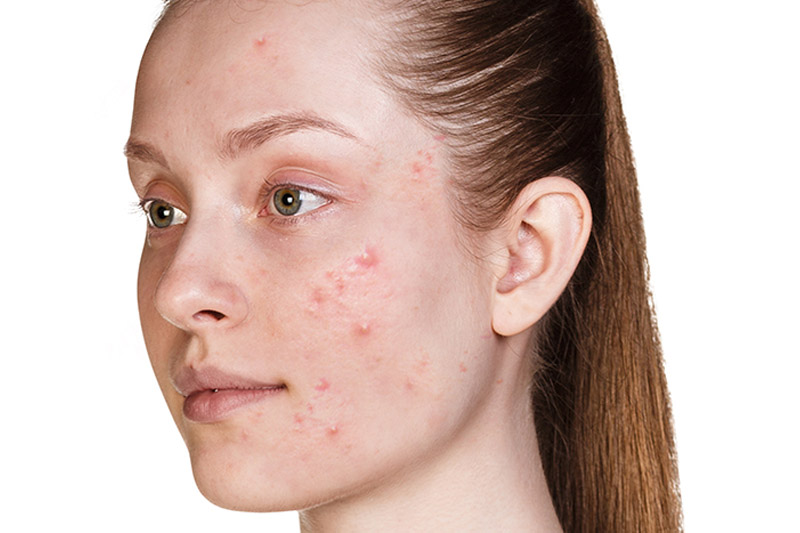 CAUSES:
Sometimes the follicle gets filled with dried out oil and dead skin and then sebum builds up and blackheads form and then trapped sebum (blackhead) gets infected with bacteria and pus-filled acne erupt with redness and inflammation around it.
Genetics/family history
Hormonal changes
Stress
Diet rich in oily foods and carbohydrates
Hot climate
Chemical exposure in certain cosmetics/creams
Vitamin A and Vitamin E deficiency
Poor hygiene
Certain steroids
Puberty
Menstrual cycle
Contraceptive pills
Medications like corticosteroids, testosterone or lithium
Reactions /allergy to a certain ingredient
Teenagers
Symptoms/Diagnosis:
It can be easily clinically seen during clinical examination.
Occurs mainly on the chest, face, arms neck and back.
Redness /bump on the affected area
Slight pain associated with touching it
Pus is also associated with it
Blackhead /whitehead can also be seen
Lumps/nodules when deeply infected
Can be round or spherical in shape ranging from 2 to 3mm
Sometimes seen as covering half of the whole area in a fashion
Swelling is also associated in severe cases
Scars are also seen after healing.
Treatment:
It is based on the underlying cause
First and foremost, use over-the-counter creams, lotions, and gels to slow down the inflammation that contains benzoyl peroxide.
Cetaphil lotion can be used as a cleanser.
Cleansing of the area thoroughly wherever the acne is a present help in further reducing the infection
Stop using any ingredient which can further induce the state of inflammation.
For treating blackheads and small red pimples – tretinoin –a vitamin A derivative or a 5% benzoyl peroxide cream can be used as per prescription.
For treating red and yellow pimples (papules and pustules) topical antibiotics such as Eryderm, ilotycin, benzamidine, Zynaryt or clindamycin as well as erythromycin and sulphonamides.
For moderate inflammation acne –systemic oral antibiotic such as oxytetracycline is the drug of choice. Minocycline or doxycycline is an alternative choice.
For deep acne or inflamed cysts-Roaccutane is prescribed and an anti-androgenic contraceptive pill (Diane 35) maybe use in women with inflammatory acne.
All the above medications should be used only under the prescription of a Dermatologist.
Other treatment /surgical:
Laser treatment: it is mainly used to recontour soft tissue and reduce the redness of the skin around already healed acne lesions.
Erbium: YAG laser can also be used.
Autologous fat transfer: It actually treats the cosmetic disfigurement caused by deep acne by transferring fat from one area to inject it under the scar to plump it
Skin surgery: If you have deep scarring, it is best to be treated with it such as punch excisional surgery.
Dermabrasion: It is the most effective method which involves sanding down your skin /scar with rotating wire brush for new layer skin to appear by healing replacing the abraded skin
Microdermabrasion
PREVENTION:
Washing your face daily is the first and foremost step so that every dirt which is clogged into your skin due to pollution can be washed away to an extent.
Never touch any part of your skin especially the face with your dirty hands. Make sure to clean your hands with soap daily.
Never squeeze or scratch the acne area.
Apply any lotion or over the counter creams recommended by your dermatologist.
Never use any cosmetic or product which is allergic to your skin like astringents, facial scrubs unless they are advised by the doctor.
Avoid stress.
Try to have a diet with low carbohydrates and Vitamin –A rich.
Try not to use hot water because it can worsen the acne.