Actinic Keratosis
---
It is the most common premalignant condition found most commonly in fair-skinned people because of their constant exposure to the sun to get tan. It is also known as solar keratosis. These are warning signs that skin has been damaged by UV rays and have a higher risk of developing cancer. These are keratotic macules, papules or plaques resulting from the intraepidermal proliferation of atypical keratinocytes due to prolonged exposure to UV rays of the sun.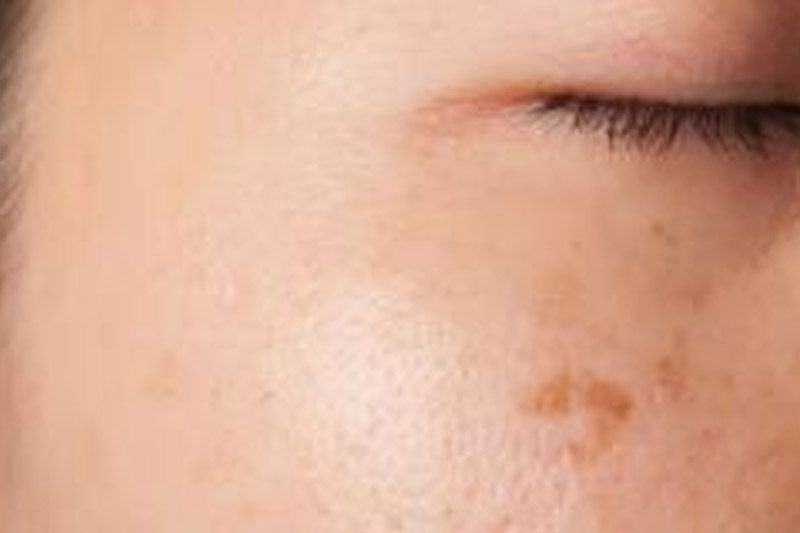 CAUSE:
The main cause is due to the overexposure of the skin to constant sunlight. The UV lights penetrate the upper layer of the dermis and can alter the genetic material of the DNA. It actually kills the normal reparative function of the DNA. It also lowers down the immunity of an individual. The main UV ray responsible for permanent genetic damage is UVA which goes deeply into the skin.
RISK FACTORS:
Pale skin /red or blonde hair individuals
Not using sunscreens daily
Genetic DNA repair disorders like Xeroderma pigmentosum and bloom syndrome
Human papillomavirus
Above 40 years of age
Burn or freckles from sun exposure.
Bald individuals
Sunny climate
Past sunburn exposure
Immunosuppressive drugs
SYMPTOMS:
Found mainly in the areas exposed to the sun like face, neck, scalp, forearm, back of hands and lower legs.
Rough sandpaper-like skin with reddish patches /plaques.
Single or isolated lesions varies from 1mm to 2 cm.
Raised scaly patches sometimes even brownish in color.
They can also be raised or thickened wart-like.
Itching of the affected area
DIAGNOSIS:
They are usually diagnosed with the physical appearances of the rashes during the clinical examination or a skin biopsy can be done to confirm the diagnosis in any doubt. So it is highly advised to consult a dermatologist. The affected area may be removed under biopsy under local anesthesia for microscopic examination in the Laboratory.
TREATMENT:
The first step is to start using sunscreen whenever we go out or cover ourselves on our sun-exposed parts /rashes.
CRYOTHERAPY: Liquid nitrogen can be used for freezing and effective treatment.
SURGICAL: A local injection can be inserted into the skin and the affected area can be scraped off using the curette or can be cut and wound closed with stitches. It leaves a scar but can be used for confirming the diagnosis for biopsy.
PHOTODYNAMIC THERAPY: The specific light can be focused on the affected area using cream and the light activates the chemical present in the cream.
LASER SURGERY: It can be used specifically in the lip area.
TISSUE SCRAPING- It can also be done by using a scraper.
ELECTRODESICCATION and CURETTAGE
TOPICAL IMIQUIMOD CREAM – is a toll-like a receptor used to synthesis interferon gamma and interleukin 12 and TNF factor
MEDICATIONS:
Diclofenac gel to relieve the itching and pain
Anti-tumor medications like FU and cisplatin
Chemotherapy for the multiplying growing cells
NSAIDS –Non-steroidal anti-inflammatory drugs like ibuprofen to reduce pain and inflammation.
RETINOIDS –includes adapalene gel, topical tretinoin .
COMPLICATIONS:
Try to use sunscreen with high SPF of 30 against UVB before going out.
Make use of hats, protective clothing, long sleeves.
Don't go out between noon and 4 pm as solar radiation is the strongest during this time
Food ingredients such as astaxanthin, lutein, lycopene, carotenoids, green tea, grape seeds can all be consumed to prevent this cancer.
HPV – human papillomavirus prevention can also help in the development of Actinic keratosis in later life.
COMPLICATIONS:
As it is a pre-cancerous condition, if not treated it can lead to squamous cell carcinoma and oral malignant melanomas.