Acute Kidney Failure
---
It is defined as sudden and usually reversible deterioration of renal functions developing over a period of days or weeks with rapid rise in blood urea. The characteristic features include marked reduction in urine volume (oliguria) , acid- base and electrolyte disturbance. It may be pre-renal, renal or post –renal. Acute deterioration of renal functions i.e., oliguria in a patient with acute on chronic kidney failure.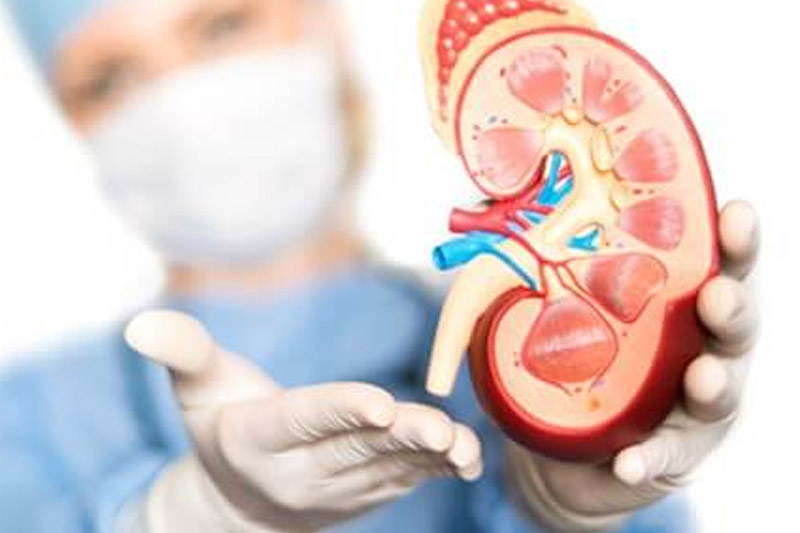 CAUSES:
PRE- RENAL (RENAL HYPOPERFUSION):

Hemorrhage, severe burns, crushing injuries, shock, hypovolemia (loss of fluids i.e., diarrhea, perspiration) ,septicemia, cardiac failure , intravascular hemolysis pancreatitis ,anesthesia and rhabdomyolysis.

INTRA-RENAL (INTRINSIC RENAL DISEASE):

Vasculitis, renovascular obstruction (bilateral or unilateral with one functioning kidney) , microangiopathic hemolytic states, rapidly progressive glomerulonephritis (RPGN) , acute tubulointerstitial nephritis ( or infections –induced) ,acute tubular necrosis due to toxins or ischemia.

OBSTRUCTIVE (POST RENAL):

Urinary tract obstruction (urethral or ureteral or renal pelvis) at any site.

The damage that leads to Acute kidney failure may be caused by:

Not enough blood flowing through your kidneys
An injury directly to your kidneys or a problem with your kidneys
A blockage in your ureters, the tubes that take urine from your kidneys to your bladder.
REDUCED BLOOD FLOW CAN LEAD TO:
Low blood pressure
Burns
Dehydration
Hemorrhage
Injury
Septic shock
Serious illness
Surgery
Heart failure
Medications (aspirin,ibuprofen, COX-2 inhibitors like Celebrex)
Cholesterol deposits
Glomerulonephritis
Chemotherapy drugs, antibiotics
Certain diseases can cause clotting within your kidney's blood vessels, and this can lead to acute kidney failure like:
Hemolytic uremic syndrome
Idiopathic thrombocytopenic thrombotic purpura (ITTP)
Malignant hypertension
Transfusion reaction
Colon or prostate cancer
RISK FACTORS:
Diabetic patients
Old age
Coronary artery disease
Heart failure or high blood pressure
Chronic kidney or liver disease.
Symptoms:
Peeing less than normal.
Swelling in your legs, ankles and feet
Drowsiness or feeling very tired.
Shortness of breath
Itching
Joint pain, swelling
Loss of appetite
Confusion
Fever
Presence of oliguria or anuria
Urine osmolality >600 mOsm/L, urinary Na excretion <20 mmol/L, urine/plasma urea ratio >10:1
Coma, seizures
Back pain
Rashes
Nosebleed
Trouble catching your breath
Pain or pressure in your chest.
Feeling tired
DIAGNOSIS:
Blood examination
Blood chemistry
Blood ph
Urine examination
Creatinine clearance
Blood urea nitrogen
Estimated glomerular filtration rate
Serum potassium
Urinalysis
RBC casts
Radiological tests: CT Scan, MRI, X-Ray
Kidney biopsy
DIAGNOSTIC CRITERIA:
An increase in the serum creatinine by 0.3 mg /dl or more within 48 hours
Patient passes less than 500 ml of urine/day during oliguric phase
The urine containsproteins, casts and cells (RBC and WBC)
The specific gravity of urine is around 1.010 or more and persists for few days or weeks. This phase lasts for average 10-14 days. The persistence of oliguria for more than 4 weeks results in acute tubular necrosis and may pass on to anuria.
An increase in the serum creatinine of at least 150 % within a seven-dayperiod.
TREATMENT:
It aims at keeping the patient alive with the appropriate measures till diuretic phase sets in. It includes:
TREATMENT OF HYPERKALAEMIA:

It is treated by insulin with glucose, calcium gluconate and ion exchange resins to prevent life threatening arrhythmias. Dialysis is reserved for severe hyperkalaemia.

CONTROL OF HYPERTENSION AND PUMONARY OEDEMA:

It develops due to fluid overload is treated by salt restriction and diuretics Antihypertensive if required can be given.

Renal protection by low dose dopamine (2-4 ug/kg/min.). It is now-a-days obsolete concept.
DIURETICS:Loop diuretics are given in large doseto convert oliguric to no oliguric renal failure.
WATER AND ELECTROLYTE BALANCE:

Normally, -obligatory water loss of 500 ml/dayoccurs through skin and lungs. There may bean additional loss of water through sweats inthese patients if they develop fever or diarrhoea.Therefore,total loss estimated in these patientsvaries between 800-1000 ml.The fluids to bereplaced is calculated by adding the obligatorylosses to the urine output of the previous day. To be on safer side, one litre of fluid is startedinitially followed by its maintenance by CVP.Noelectrolyte should be given. Hyper calcaemic andhyperphosphataemia can be improved with dietand phosphate binding agents such as aluminium hydroxide or by calcium replacement.

PROTEINS:

Proteins are given to prevent endogenousbreakdown of proteins. About 20-40g proteinsdaily(0.5 g/kg) is sufficient for this purpose.Theenergy is provided by carbohydrates,hence,liquidglucose preparations or intravenous glucose (10%)may be given in case of vomiting or diarrhoea.

INFECTIONS:

Infection is treated by appropriate antibiotics.Feverand leucocytosis are the signs of infection.Choice of antibiotics depends on the culture and sensitivity.Nephrotoxic antibiotics are to be avoided. There is no role of prophylactic antibiotics in ARF.

METABOLIC ACIDOSIS:

Metabolic acidosis is treated as and when it arises. Sodiumbicarbonate (50-100 mEq every 6 hours)employed to keep the bicarbonate levels around18 mmol/dl.

DIALYSIS:

Dialysis (haemodialysis or peritoneal dialysis) or haemoperfusion is employed frequently insituations givenbelow:

Oliguria with rapid rise in blood urea.
Hyperkalaemia (K+ > 6.0 mEq/L)not controlled by medical means.
Fluid overload not controlled by fluid restriction anddiuretics.
Metabolic acidosis(severe not amenable to medicaltreatment).
Ureamic pericarditis.

PREVENTION:

Adequate hydration
Live healthy and eat a diet low in salt and fat, exercise for 30 min for at least 5 days per week, limit alcohol and taking all prescribed medications on time
Don't take too much of over the counter medications such as ibuprofen because it can cause Acute kidney failure.
If you have diabetes an high blood pressure, try to maintain it go the normal levels by consulting with your doctor.