Acute Liver Failure
---
Acute liver failure or acute fulminant hepatitis is said to be present when a previously healthy person develops acute hepatitis and goes into hepatic encephalopathy within 8 weeks to 6 months are called subacute or subfulminant hepatitis or liver failure. It is a life threatening syndrome characterized by fever, jaundice and mental features (confusion, stupor, precoma and coma .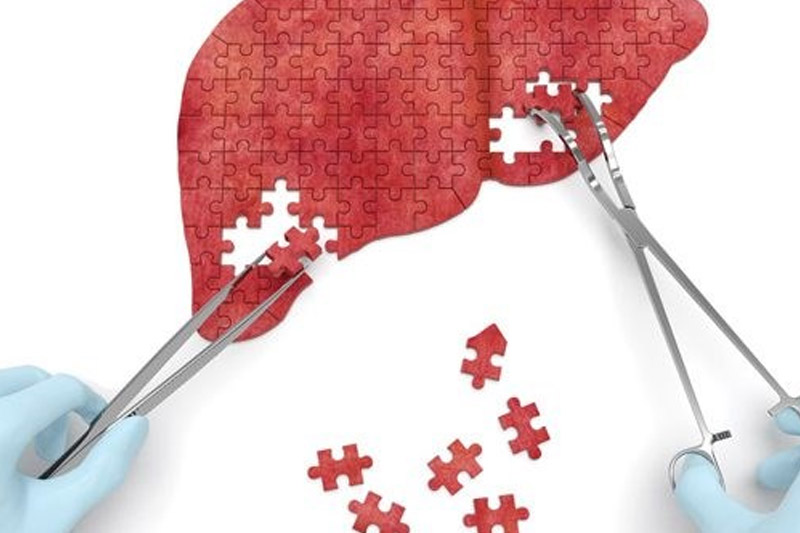 CAUSES:
Acute viral hepatitis of all types but rare with hepatitis A
Drugs –all hepatotoxic drugs especially acetaminophen
Pregnancy with hepatitis
Wilson's disease
Poisons – carbon tetrachloride,phosphorous, poisonous fungi (amanita phalloides)
Reye's syndrome (fatty liver with encephalopathy in children)
Shock, hyperemia and hypothemia.
PATHOLOGY:
There is extensive parenchymal necrosis of the liver. In acute fulminant liver failure, it is estimated that only less than 30% liver cells appear viable. Fatty degeneration can be seen in hepatitis associated with pregnancy or Reye's syndrome.
SYMPTOMS:
CEREBRAL: poor alertness, disturbed concentration, behavioral changes , drowsiness, confusion , disorientation , disturbed sleep pattern , slurred speech , convulsions and coma.
JAUNDICE: Bilirubin more than 20 mg carries poor prognosis. It is associated with fever,vomiting. Hypoglycemia can occur.
FETOR HEPATICUS: it is an ammonical odor in patient's breath and is due to methyl mercaptan.
FLAPPING TREMORS: a flap on extended hands is visible but may be lost in deep comatosed patients.
LIVER DULLNESS: the liver span is reduced to shrinkage of liver. Liver is just slightly enlarged only in initial cases.
BLEEDING DIATHESIS: in some patients, purpura or severe gastrointestinal bleeding occurs and it may occur from any site and evident in the form of epistaxis, black colored gastric aspirate , purpura ecchymosis or from a punctured site .
SIGNS OF PORTAL HYERTENSION: Ascites, oedema are usually absent.Splenomegaly is unusual.
NEUROLOGICAL: Cerebral oedema is seen in 80% patients who die.
INVESTIGATIONS:
BILIRUBIN: is raised – both unconjugated and conjugated fractions are high.
SERUM TRANSAMINASES: are raised. Hence fall of SGOT and SGPT in acute hepatic coma constitutes a bad prognostic parameter. Serum alkaline phosphate levels are normal.
SERUM ALBUMIN: normal to low.
PROTHROMBIN TIME: will be increased.
LEUCOCYTOSIS: occurs without an evidence of an infection.
URINE: may contain urobilinogen, bilirubin.
EEG: is done to grade the hepatic encephalopathy.
SERUM AMMONIA: levels are usually high.
USG OF LIVER: shows reduced liver size.
TREATMENT:
No sedation is given until the patient is irritable. Only a small dose of phenobarbitone or 5mg of I.V diazepam may be given.
Care of comatosed patient: care of back, bowel,bladder,skin, respiration, pulse and BP.
Barrier nursing care with proper disposal of excreta.
V. vitamin K, 10 mg daily for 3 days with I.V. vitamin C 500mg daily in the drip to prevent bleeding, if PTI is prolonged. Blood transfusion is given in severe bleeding.
V. H2 blockers – ranitidine 50mg twice a day to prevent GIT bleeding.
ENCEPHALOPATHY TREATMENT:
Withdrawal of protein intake from all sources.
Sterilization of gut with neomycin 1gm orally after every 6 hours.
Increased faecal output of nitrogen by changing the bacterial flora with lactulose, 30-60 ml orally after every 2-3 hours till a lose stool is produced.
L-dopa, bromocriptine with some success have been tried.
Repeated bowel/colonic wash should be attempted to evacuate the colon off its contents so as to reduce the ammonia formation from breakdown of proteins by coliform bacteria.
Hypokalemia, hypomagnesaemia should be corrected and their levels are to be monitored.
Infections are treated with parenteral amoxycillin and gentamicin or ceftriaxone.
Corticosteroids are of no help.
Cerebral oedema is reduced by 20% mannitol I.V.
PREVENTION:
Maintaining a healthy weight.
Maintaining a good hygiene.
Vaccination against hepatitis A and hepatitis B.
Avoid medicines overdose such as paracetamol.
Avoid alcohol as much as you can
Avoid any drug usage
Have a balanced diet that includes essential phospholipids.